TEMPbadge Self-Expiring Badges
Why Visitor Management?
It makes sense: in today's "security-first" world, real security begins at the front door.
Visitor Management helps increase facility-wide security by better tracking and controlling who is allowed on-site. Visitor Management systems range from simple to complex, from visitor badge systems to networked software systems. The goal, however, is the same: to increase security for staff and guests.
Today, your customers will be turning to Visitor Management for a variety of reasons. Some will be proactively increasing security, while others are trying to comply with industry regulations. Whatever the case may be, Brady People ID offers Visitor Management solutions to meet all needs.
Visitor Management You Can See!
Getting control of your visitor management and maintaining it is very important in today's world. You need to know who is in your building and what areas they are authorized access. Visitor management is crucial to completing a secure work, study, or recreation environment. Log-in visitor books no longer provide satisfactory visitor monitoring or lobby security. The professional solution is software that captures every visitor, records pertinent data, and issues visitor ID badges for easy recognition. You have a choice of photo IDs or self-expiring temporary badges.
Benefits include:
* Make your facility safer and more secure
* Streamline the reception process with efficient, easy-to-use software systems
* Collect data for use in analyzing visitor traffic and creating visitor reports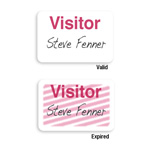 TEMPbadge Self-Expiring Badges
See below for different item
Showing all 9 results