Fargo HID DTC1500
Fargo HID DTC1500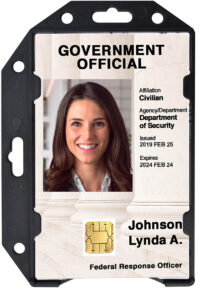 Built on 20 years of proven direct-to-card printing expertise, the HID® FARGO® DTC1500 card printer and encoder offers the convenience and lower cost of high-capacity consumables along with a comprehensive feature set — enabling organizations to routinely issue highly secure cards and IDs at a fraction of the cost without sacrificing quality. Designed for government, universities and colleges, K-12 schools, healthcare facilities, and small-to-medium businesses, the DTC1500 boasts distinctive security features.
Innovative, built-in security features — Easy-to-implement security features such as resin scramble data protection and custom overlay watermark come standard on every unit
Low-cost, high-capacity consumables — High-capacity, full- and half-panel color ribbons significantly lower cost-per-card and reduce total cost of ownership
Highly versatile — Powerful printing in a modular, scalable design that simplifies in-field equipment upgrades and migration to higher levels of security
Earth friendly — GreenCircle® Certified for efficient energy consumption and eco-friendly (ECO) refill ribbons
Security, lower cost, innovation, and versatility — they all come standard with the DTC1500.
The DTC1500 offers the convenience at low cost along with comprehensive features while still providing innovative protection that will help you issue highly secure identification cards more efficiently than ever before!
With a lower cost and more convenient option, DTC1500 delivers on the needs of organizations.
It's highly secure while being easy to use with its innovative features that help you reduce time spent managing cards.
Showing the single result