Evolis Zenius ID Card Printers
Setting new standards in card printing!
Zenius is the one-stop solution to print high-quality single-sided cards, in monochrome or color, and encode technology cards, singly or in runs, for a variety of applications: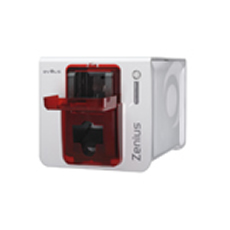 employee badges,
access control badges,
payment cards,
transportation passes,
and more…
Easy-to-use
Zenius makes it easy for you every step of the way! Discover a wealth of advanced features loaded in a contemporary yet compact design.
Card feeder and output tray located at the front of the printer
Manual feeder
Control panel with LEDs
Scalable
Equipped with state-of-the-art printing technologies, the Expert version of Zenius can be upgraded onsite with multiple encoders. These flexible features ensure that you will always be in line with your current and future requirements in plastic card printing.
Direct access to ports
Onsite integration of specific modules*
Magnetic and smart card encoders can be combined within the same printer*
General printer specifications
Single-sided printing module, edge-to-edge printing
Color-dye sublimation and monochrome thermal transfer
300 dpi print head (11.8 dots/mm)
16 MB of RAM
Printing performances
Color: from 120 to 150 cards per hour
Monochrome: from 400 to 500 cards per hour
Card management and specifications
Choice of automated or manual feeding
Evolis High Trust® ribbons®
Maximize the quality and durability of printed cards, the lifespan of your print head and the overall reliability of your printer!
Automatic detection and setup
Ribbon embedded in a cassette for ease of use
Ribbon saver feature for monochrome printing
Display
LEDs
Graphic notifications from the printer (Depending on your Windows version):  Empty feeder, cleaning, "approaching end-of-ribbon" and "end-of-ribbon" warnings
Software
Supplied with the Evolis Premium Suite® for  Windows:
Printer driver
Evolis Print Center for printer management and setup
Evolis Printer Manager for two-way notifications (Requires .net 4.0 client profile)

 

Supports Windows  XP SP2 or later; Vista 32/64, W7 32/64

 

 (For versions prior to Windows XP-SP2, please contact Evolis Services)
Supplied with the eMedia CS Card Designer (30-day free trial to be downloaded from Mediasoft's website)
Other OS: Mac and Linux: upon request
Warranty
2 years (printer and print head)
Showing all 2 results