Want to produce and manage durable, colorful, and secure ID cards without the hassle of buying and owning your own equipment? Manage your employee, visitor, member, or temporary staff records and badges with a powerful, yet easy-to-use online system.
IDCardOnline is an online ID badge management system. The system's advanced features allow large or small organizations to upload, categorize, manage a badge population with amazing ease. We print the badges and ship them directly to you! No equipment. No supplies. No hassles.
By viewing the "My Account" home screen, an authorized user can view the critical elements of their organization's badge population such as: Active badges, Badges close to expiration, Expired badges, Order histories, Ship tracking details and more. IDCardOnline offers the most advanced on-line badge management tools available today. Now you can organize your population, save money, and simplify your day.
For Information on Pricing, click here
For Custom Applications and Solutions tailored to your company, please call us at 800-440-0207 or email us- customerservice@hoobeid.com.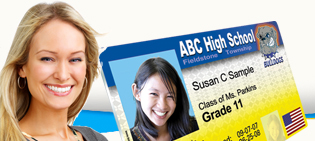 Login or Register for IDCardOnline